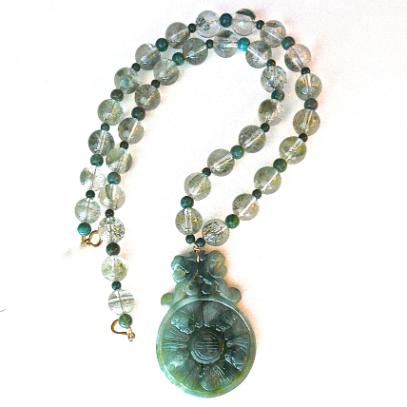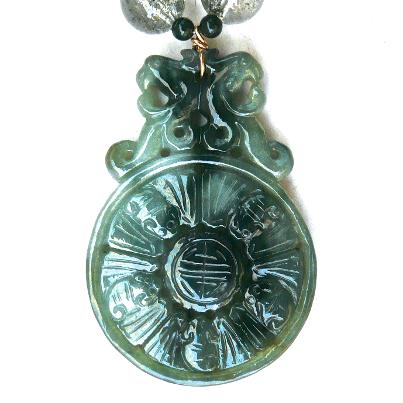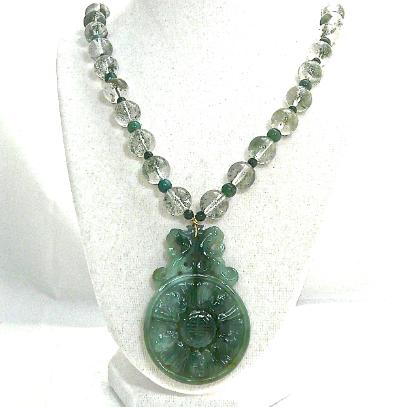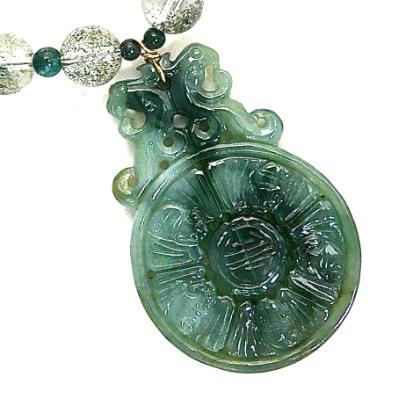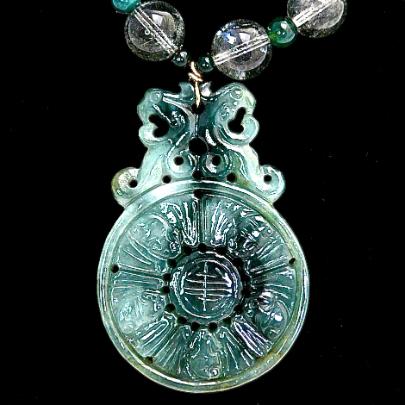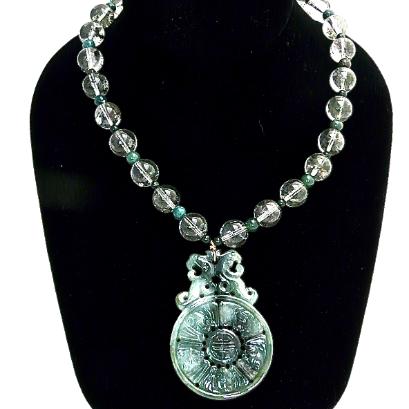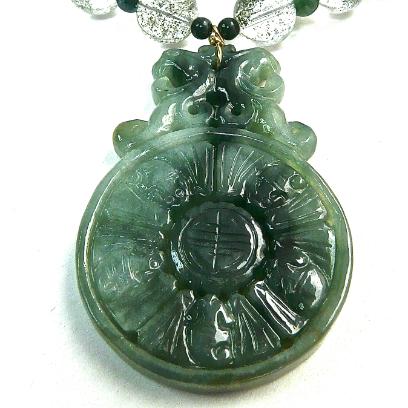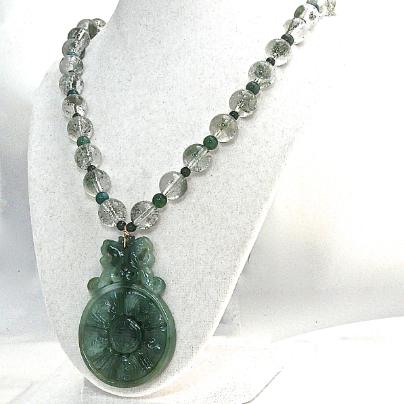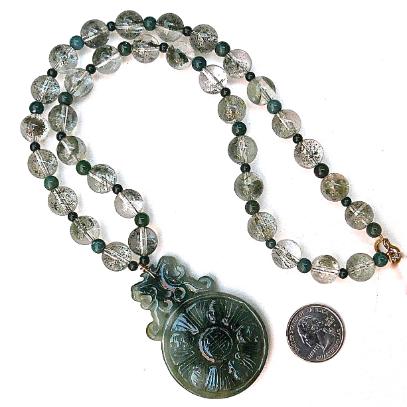 #C4055
Jade Five Bats, Double Phoenix, Rutilated Quartz, Jasper, 14K Gold Necklace
Necklace is 23 1/2" around. The jade pendant drops 2 1/2" and is 1 1/2" at it's widest.
I found this fabulous piece of rich dark green jade and loved it because of the unusual color and the exquisite carving. The symbolism is particularly nice as it is hard to find carvings with the five bats of happiness. I searched for the perfect bead complement and found these wonderful rutilated quartz beads with the exact same green color inclusions. The small jasper beads that I have interspersed between the rutilated quartz are the same green. The rultilated quartz beads give a lightness to the necklace and are a unique combination with the jade.
This dramatic one-of-a-kind necklace is made with a piece of naturally green jade - spinach jade. It is carved with a traditional design of the pi (round disk) with raised carving of five bats around it and two phoenix on top facing each other. In the center is the long life symbol. I have beaded it with 12 mm high quality green rutilated quartz interspersed with small green jasper beads the color of the jade. The rutilated quartz is clear with inclusions of dark green granules.
The bat is symbolic of happiness, good fortune, prosperity and longevity. When something is portrayed upside down it means it has arrived, so the common portrayal of an upside-down bat is symbolic of good fortune that has arrived. It is one of the best symbols of good luck. The Wu Fu, or Five Bats of Happiness, stands for the five blessings: long life, riches, health, love or virtuosity and a natural death. Chinese word for "bat" (fu) identical to sound in good luck.
The phoenix, a mythical bird, is the emblem of the Empress and of beauty. It only appears in time of peace and prosperity. It is believed that a following of smaller birds is always present when the phoenix is flying. It is symbolic of prosperity, rich harvests, and beauty. A pair of phoenix is symbolic of happiness.
Chinese royalty has worn jade for centuries. It is believed to be a spiritual stone and has been called the jewel of heaven. It represents the five principal virtues: charity, modesty, courage, justice and wisdom. From cloudy white to golden brown, light to dark green, to rare lavender, jade is the most highly prized Asian gemstone. Jade has been regarded as the most precious stone for thousands of years. It is believed to protect the wearer and ensure good luck and good health as well as to increase life span.
Rutile is a major ore of titanium, which is a metal used in high tech. It often forms needle-like crystal inclusions inside quartz, known as rutilated quartz. It has the appearance of tiny hairs or granules of embedded gold or other colors which give it the color. It can be dense with these inclusions or clear where the inclusions add little color. Rutilated quartz has been called Cupid's darts
Jasper is an opaque and fine grained variety of Chalcedony. It is believed that Jasper protects against evil spirits and snake and spider bites. In the fourth century, it was believed to bring rain in the early centuries.
$950