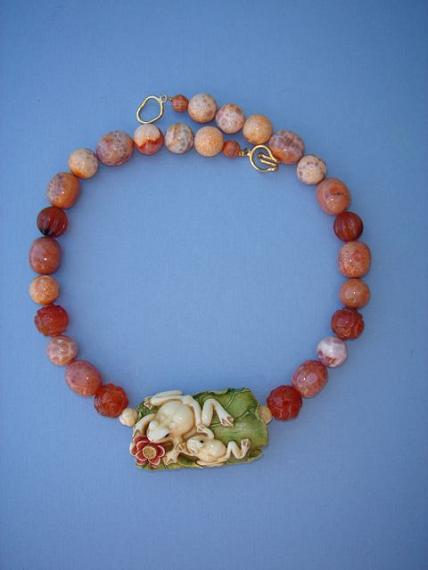 #C3923
Mammoth Ivory Frogs, Carved Carnelian, Fire Agate Necklace
Approx 20" long including frogs, frogs are 2 1/4" x 1 1/4"
SOLD

$795
This unique necklace is made with deep orange carved carnelian and fire agate beads and a mammoth ivory piece that id two frogs on a green lily pad with a red orange water lily. This interesting necklace can be worn with both casual and more dressed up outfits. It is a great conversation piece.

The frog, or heavenly chicken, is symbolic of happiness, good luck, longevity and prosperity. The frog is believed to promote pleasant dreams. Is an emblem of spring and abundant rain. It is symbolic of prosperity, happiness, good luck and fertility. In Korea a dream of a frog is a sign that a son will be born.

Carnelian has a long and storied past, and was once considered strictly the property of the noble class. People holding a high social status were often buried with this gem stone.

Mammoth Ivory comes from the extinct mammoth elephant that roamed the Earth during the Pliocene era from around 4.8 million to 4,500 years ago. Because they are extinct they are not endangered and therefore, are legal and save the African elephant. The artisans that carved elephant ivory are now carving mammoth ivory that is recovered in Siberia.