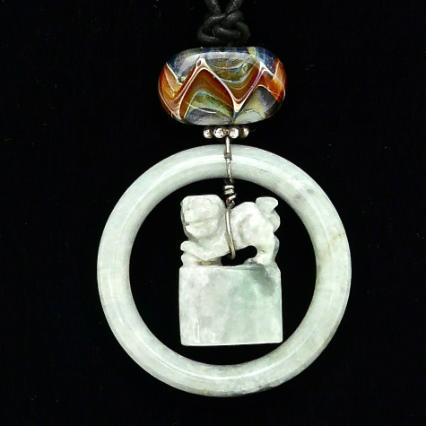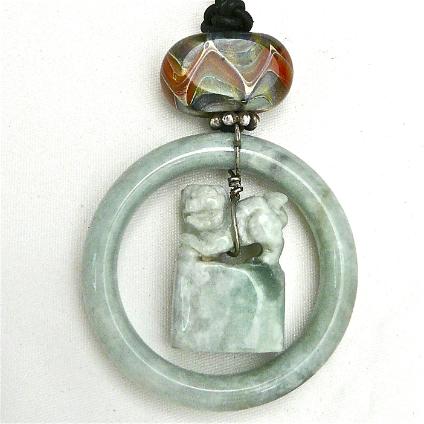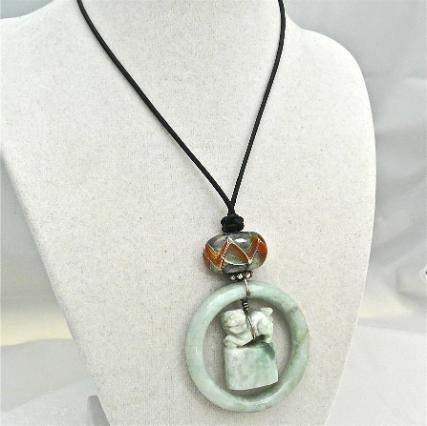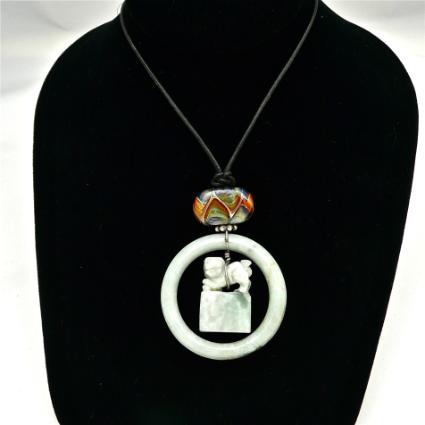 #C3535
Green Jade Fo Dog Chop, Jade Baby Bracelet, Kreitter Pendant Necklace
Approx 2 1/2" drop X 1 3/4" on an adjustable leather cord.

$190

SALE $110

I have suspended this natural pale green jade Chinese chop in the middle of a jade baby bracelet of the same color. The chop is carved with a fo dog sitting on top of a square piece. I have topped it with a beautiful glass lamp work bead by renown glass artist, Keith Kreitter, that has some of the same pale green in it as well as some areas of darker green and rusty orange for contrast. The jade measures 1 3/4" in diameter. It drops with the glass lamp work bead 1 3/4" from a black natural leather cord that is adjustable so it can be worn a variety of lengths.

The chop was carved on the bottom with a Chinese symbol or script of the owner and used to mark documents by stamping on a wax drop or using an ink stamp. Jade bracelets are placed on babies when they are very young as it is believed that the jade protects them and keeps them healthy. As the child ages it s replaced with a larger bracelet.

The Fo Dog is believed to be very protective. They are believed to discourage evil people and/or spirits from entering the place they guard. The fo dog or temple lion have traditionally stood in front of Chinese Imperial palaces, emperors' tombs, temples, government offices, and the homes of mandarins and the wealthy. The fo dog is symbolic of vitality, courage and loyalty.


Chinese royalty has worn jade for centuries. It is believed to be a spiritual stone and has been called the jewel of heaven. It represents the five principal virtues: charity, modesty, courage, justice and wisdom. From cloudy white to golden brown, light to dark green, to rare lavender, jade is the most highly prized Asian gemstone. Jade has been regarded as the most precious stone for thousands of years. It is believed to protect the wearer and ensure good luck and good health as well as to increase life span.