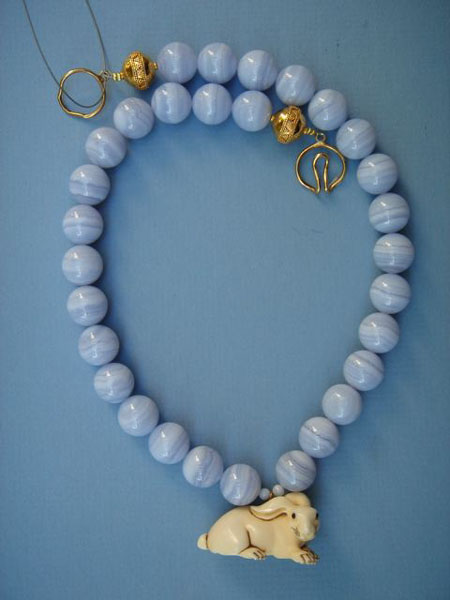 #C3355
Mammoth Ivory Rabbit, Blue Lace Agate Necklace
Approx length 20", rabbit 1" x 1 3/4"
SOLD

SALE $390

$575
This necklace is made with a mammoth ivory rabbit and blue lace agate beads. The blue lace agate has bands of blue, paler blue and cream. The rabbit is symbolic of virtue and speed and also symbolic of longevity. Those born in the year of the rabbit are intelligent, successful in business and lucky in love.


Mammoth Ivory comes from the extinct mammoth elephant that roamed the Earth during the Pliocene era from around 4.8 million to 4,500 years ago. Because they are extinct they are not endangered and therefore, are legal and save the African elephant. The artisans that carved elephant ivory are now carving mammoth ivory that is recovered in Siberia.