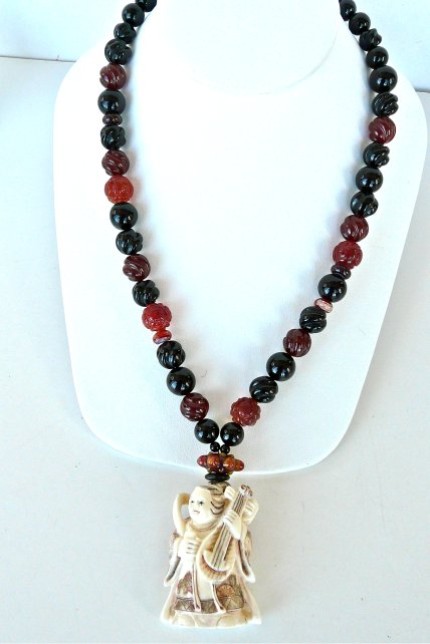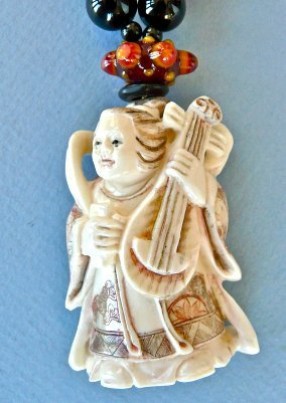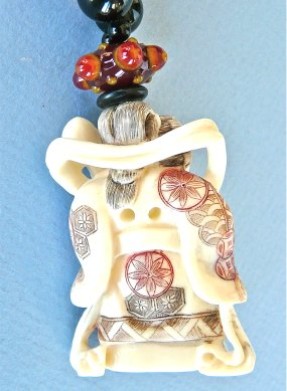 #C1130
Hippotusk Ivory Goddess Benten Netsuke, Onyx, Carved Carnelian Necklace
Approx length 20 1/2" pendant is 2 12"

$635

This item cannot be shipped outside the US.

This one-of-a-kind hippotusk netsuke is beaded with various cuts of black onyx and carved carnelian beads. The netsuke is of the goddess, Benten playing her lute. Benten is the only woman among the lucky gods. She is the patron of music, art and literature and is often portrayed playing the lute. She is also the patron of children and her virtues are happiness, prosperity and longevity. Her robe is etched with an Asian design.

The netsuke is topped with a beautiful glass lamp work bead that is black with the carnelian orange and a golden color that picks up the lighter colored netsuke and the carnelian in the necklace. Also in the necklace are interspersed some smaller glass millifiori beads to give it added interest.


The netsuke is a miniature carving, usually less than two inches high, created by Japanese and Chinese artists for over three hundred years. They portray every aspect of their life and culture, as well as characters from Japanese folk stories. These carvings were traditionally used to prevent the cord attached to a gentleman's medicine box or tobacco pouch from slipping through the belt of his kimono. Today, they are highly collectible works of art. Traditionally, netsukes have been carved from mammoth and elephant ivory, ebony, fossil walrus tusk, mahogany, rosewood and hippopotamus tooth. The netsukes, often signed by the artist, are getting harder to find as the detail in each piece takes patience and time and the younger Chinese are not so interested in pursuing this art form. . Many of these pieces are displayed in museums and demand high prices at art auctions - from a few hundred dollars to a few thousand depending on the quality of the carving and the artist.
Onyx is known as the gem of the midnight hour and is a type of quartz. At one time only nobility owned carnelian and many times they were buried with this stone. The most highly prized carnelian is a deep red to red-orange color.